Conference Centre Kimberley
Address
18 Old de Beers Road, Kimberley, 8300, South Africa
Tel: (+27)0 53 832 6211
Fax: (+27)0 53 831 1458
Web: www.savoyhotelkimberley.com
Contact Person
Conference Manager
conference@savoyhotels.co.za
Download Fact sheet (including Rates):
Savoy Conference Centre is conveniently located next to the Savoy Hotel Kimberley. If the delegates wish to eat dinner, they can do so at the Tiffany's Restaurant or relax at the Tiffany's Bar, both of which can be found at the Savoy Hotel Kimberley.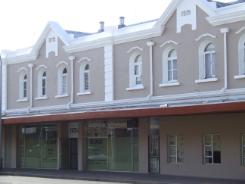 Conference Packages Include
Pen and paper for each delegate
Coffee/tea break with muffin
Savoy Conference Centre offers
Flipchart
Screen projectors
Audio visual equipment
Air conditioning
Internet access
Conference & Banqueting Clients have a choice of 14 venues under one roof to suit every need. Most popular is the Diamond Room with capacity for up to 180 pax banqueting style.
Map Savoy Conference Centre: